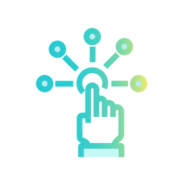 Interact with your client at any time in a personalised way, with a proposal that respects their preferences, considers their behavioural habits and in the most appropriate context…
…This is LAAS (Location as a Service)!
A technology that does not require hardware
High user detection rate

Precise location in Indoo areas X+Y+Z (FLOOR) <10m2

Speed and reduced cost for a massive number of Indoor/Outdoor points of interest

Quick and easy scalability with the CalibrAPP tool

Lightweight SDK for easy integration into Android and IOS

Big Data CLOUD API for connection to third parties (SALEFORCE, ORACLE…)

SAAS that pays according to the growth of your project
GPS BASED
– Focused on agencies
– Requires active GPS
– No indoor position allowed
– Highly variable precision quality

MULTISENSOR
– It does not allow to measure in competition
– High dependence on hardware
– Expensive implementation and maintenance
– Battery consumption in users' mobile phones
 
– Speed and cost of mass POI deployment
– Precise location in competitors and "contextual POI
– Indoor and Outdoor SMART POI Location
Improve the customer experience in a shopping centre with 'Position-probe' services
'Shopping routes and scavengers': Gamification of commercial dynamics with the client.
NPS remembers when you leave the Shopping Centre
Increase in average visit time, redirection of traffic from hot to cold areas and monitoring of client activity and behaviour in competition.