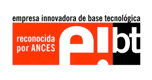 Who are Neuromobile? – The reason for er
Neuromobile is a technology-based company within the retail tech sector. We are obsessed with effectively applying technology to the large distribution sector in the commercial and retail areas. We have created a platform of solutions designed to unite the physical and digital world because we are great advocates of the physical point of sale of human contact and technology as an accompaniment.
Where do we come from? – The origin of managing shopping centres
We are from Murcia, also known as Achovalley. The company achieves its first success in 2011, when the germ of the project is awarded in the StartupWeekend of the Kauffman Foundation. This would be the first of a long list of awards, which has encouraged us to continue working every day to implement validated solutions tailored to each client. But we don't live by awards and with our solutions for shopping centres we have made a name for ourselves in this world and right now they say that we are a benchmark in the management of commercial areas
Where are we going? – The future of trade
Our future, as in everything digital, is uncertain. :). With our localisation system (LBS) we are advancing in very promising projects in the field of contextual marketing, as well as our incursion into loyalty programmes or the creation of contact plans.
And we cannot forget the initiative we are promoting together with another group of entrepreneurs:
Achovalley
, we want to put
Murcian talent in
its
place